Capital Ideas "Home-Work"
July – August 2020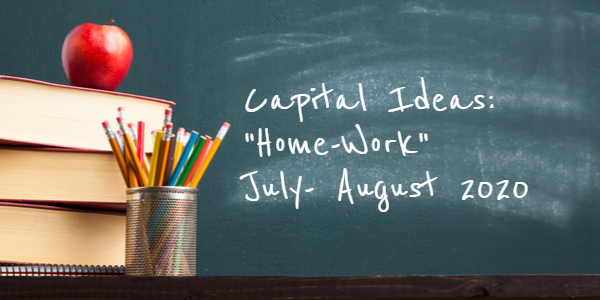 Four of the largest US companies, responsible for providing life-saving products and services throughout the pandemic, testified in front of Congress today. It is a shame that there is not better cooperation between the private and public sector to help the government solve our national problems.
We have witnessed Boeing announce deeper job cuts due to decreased production as worldwide travel plummeted. Higher travel costs are predicted as this industry struggles to restart. It may take some time, but travel will resume with a passion once COVID vaccines and therapeutics are in place. Speaking of challenged industries, commercial real estate especially in urban centers has been hit hard. Sociologists are contemplating whether people will want to come back to office. I feel certain that people will come back! It will however be different- more telecommuting will take place, but over time these office towers will be bustling again. The recurring question is how long will it take?
Companies are finding that using workers in remote geographic locations are a great way to cut costs. If your employee telecommutes and lives in Kansas City, and your business is in Boston for example, their compensation requirements may be lower. It is geographically closer than outsourcing to India, but fundamentally the same concept.
Some of us may be working remotely longer if schools do not open fully in the fall with the demands on families to home school children.  Parents are forced to juggle helping with schoolwork on screens in the living room while also attending zoom meetings for their work in their kitchens. Homework has taken on a whole new meaning!
Given the pandemic backdrop it is no surprise the economy contracted sharply in the second quarter. There are concerns about more government stimulus coming – surely it will help the economy, but some say it will increase the deficit. I say, please get it to the people who need the help as soon as possible! Will Rogers said "I don't make jokes. I just watch government and report the facts."
We continue to keep a close eye on unemployment and consumer spending (spending is 70% of the U.S. Economy). With less than 100 days till the election, there is constant chatter about changes in tax structure, increased government spending, and America's role in the world.
Notwithstanding any of the above challenges, we stand ready to take advantage of the opportunities. One of the reasons that our clients invest with us is because we are invested alongside them. As such, we view the world not as intermediaries, but as your partners.
This year has been challenging for every citizen around the world. As your partners, we pledge to watch over your hard-earned money with our best efforts every day. We are confident in our future together and remain loyal to those ideals.
As Always,
Seymour W. Zises